INCLUDING CELLULITE & STRETCH MARK REDUCTION
As medaesthetic technologies develop, more and more patients opt for non invasive & safer body contouring treatments offered in medaesthetic clinics.
Get the body you desire with SharpLight's non-invasive body contouring laser treatments.
SharpLight's innovative med-aesthetic systems effectively sculpt bodies in the image of the clients' ideals – without surgery. Our advanced technologies dissolve cellulite, eliminate fat and tighten skin to produce visibly slimmer and shapelier forms and more youthful looking skin. These results are achieved in a relatively small number of short, pain-free treatment sessions that require no down time.
Through the application of two types of energy, radio frequency (RF)* and infrared light (IR), our body contouring therapies yield impressive results. First, the radio frequency* waves target and heat the fat cells collected beneath the skin, which causes them to break down, be absorbed by the lymphatic system and be naturally disposed of. Once the appropriate size reduction is achieved, the infrared light is applied to renew collagen cells and tighten the skin, leaving clients with the shape they desire and elastic, glowing skin. SharpLight's systems offer a highly effective, efficient and non-invasive solution to body contouring.
Advantages of SharpLight's body contouring treatments:
Treatments effectively reduce cellulite and localized fat deposits, producing slimmer, shapelier bodies.
Dramatic results are obvious after a relatively small number of sessions.
Treatment sessions are brief (20-30 minutes) and clients can immediately return to their regular activities.
Treatments are excellent non-invasive, safe and pain-free alternatives to surgical procedures.
Treatments have been proven successful for thousands of satisfied clients.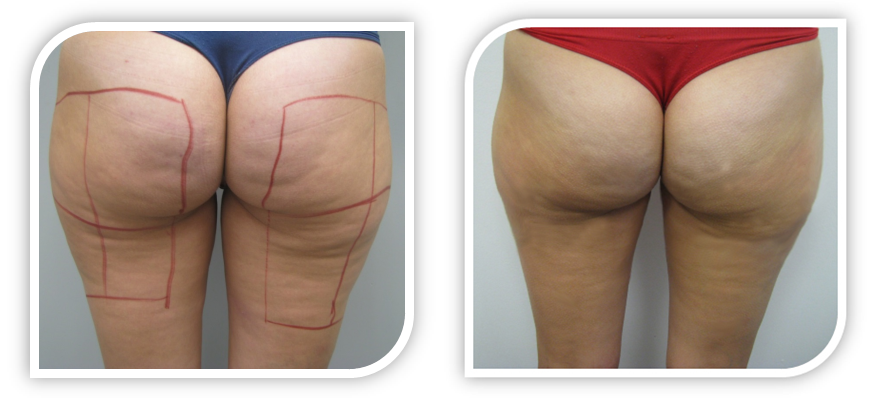 PRICING IS BY CONSULTATION ONLY FOR THIS SERVICE.
MINIMUM OF 8-10 sessions for the face & neck,
and 10 - 16 SESSIONS for body treatments ARE RECOMMENDED FOR BEST RESULTS